Digital Toolkit 2020
Digital Expert Panel Q&A Session
1:30pm - 2:30pm - Every Wednesday
Online Webinar - Free Access to Digital Advice & Support
This webinar is the perfect place for you to ask the experts how to overcome your digital challenges and grow your business online. Are you finding it hard to get found online? Feeling like your business is struggling? You are not alone! Perhaps you just need some questions answered? Or some simple tools to help you accomplish your tasks? Keep your business growing with the unique and experienced insight of the Digital Toolkit Panel of Experts.
Put us to the challenge! Ask us anything digital. This panel is a discussion focussed on helping small to medium business owners, and to provide tools and tips to help you manage your brand online and to build your digital strategy. In this very difficult time, it is essential that we are all here to support one another. We will have a range of experts on hand every session, to help you resolve your digital challenges. Who are all ready to help you if you would like to contact them directly Looking forward to seeing you all online, every Wednesday.
Register NOW Register NOW see videos see videos
Next Live Digital Toolkit Topics:
---
Queensland Small Business Month Digital Workshop Series
Queensland Small Business Month Digital Workshop Series - The series consists of two rounds to ensure you get a chance to attend and take full advantage of the workshops.
Digital Toolkit Topics & Event Schedule
15 April - The Future of Business Technologies
22 April - Cutting Through the Noise of Social Media
29 April - Content is Not Enough
6 May - DIY Marketing Challenges
13 May - Reducing Your Digital Costs
20 May - Find Out What You Don't Know Online
27 May - The Virtual World of Business
3 June - Using Social Media to Build Your Business
10 June - What Should You Really be Paying for a Website?
17 June - Creating a Dust-Free Customer Database
24 June - Is Google Really Helping My Business?
1 July - The Do's and Don'ts' of e-Commerce
8 July - Branding that Speaks for Itself
15 July - The Nuts and Bolts of Linkedin Marketing
22 July - Why the Blog Should I?
29 July - What Makes a Great Video Ad?
5 August - How to Standout with Instagram
12 August - Digital Initiatives & Funding for Small Business
19 August - To Niche, or Not to Niche?
26 August - The Science of SEO: Keywords, Landing Pages & Backlinks.
2 September - Digital Success Stories Part 1
9 September - Digital Success Stories Part 2
16 September - Reputation Management - Building Your Online Credibility
23 September - What's the Best Lead Generator?
30 September - How Much Should I Be Paying for Digital Marketing?
7 October - How Do I Brief a Digital Marketer?
14 October - How to Use Facebook Groups to Grow Your Business?
21 October - Making Digital Partnerships Work
28 October - How To Beat Digital Overwhelm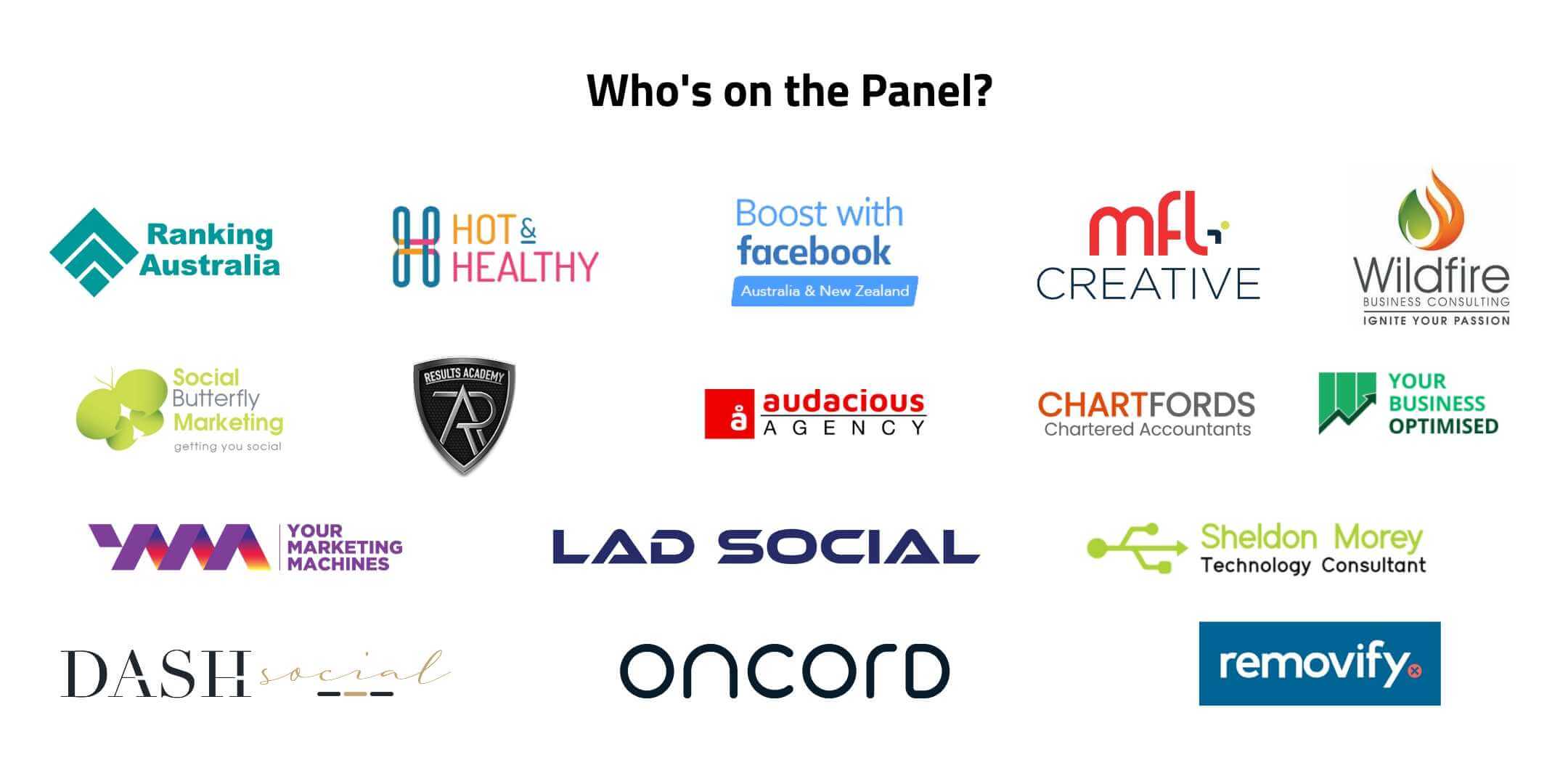 Katrina Puranik - Ranking Australia
Nicole Van Hattem - Hot & Healthy in Business
Sheldon Morey - Sheldon Morey Technology Consulting
Andrea Anderson - Your Marketing Machines
Lauren Clemett & Annette Densham - Audacious Agency
Joel Campbell & Alex Cumberland - Oncord
Liam Fahey - LAD Social
Dante St James - Facebook
Kay Ridge - Dash Social
Renee Dembowski - Social Butterfly Marketing
Trevor Russell - Results Academy
David Letizia - Your Business Optimised
Di Krome - Wildfire Business Consulting
Steven Meneghetti - Removify
Megan Cleary - Meg Cleary Coaching
Liz Cronje - Chartfords Chartered Accountants
and more to come!
If you have any Questions please feel free to contact us on (07) 3360 0818 – or email the organiser on katrina@rankingaustralia.com.au 


Register Register see videos see videos